TRIBE runners Spence and Dave headed for the Pennine Way over Christmas for an epic Ultra across snow-covered trails.
On a previous trip to cycle round the Isle of Wight I was alone. To be honest it was super boring. The activity was fun but the evenings were lonely. Luckily, for this trip I had a willing and more than able partner, Dave, an already established member of the TRIBE Community.
Dave had wanted to run part of the Pennine Way for a while so we already had a rough plan. More research meant that we would run approximately 50km from Gargrave (NW of Leeds) to Hawes in the middle of the Yorkshire Dales.
Route planned, equipment checked and sausage rolls purchased we set off from Kings Cross to Gargrave on the Friday.
Gargrave to Malham - 11km
The first leg of our journey was a relatively easy run. A later departure than scheduled due to the B&B card machine not working we set off at 08:15.
The Pennine Way was easy to find, with a nice big wooden sign pointing us in the right direction.
We started off heading east into the sunrise which was burning the kind of orange that you find on the collar of an emperor penguin. The first 3km was relatively uphill which sent my heart rate skyrocketing, even though this happens to me on every run, I thought it didn't bode well. However, once we settled in to it I started to feel ok and conversation started flowing - mainly about BitCoin.
Untroubled and spirits high, we hit The Lister Arms in Malham for a bacon sarnie and hands down the best hot chocolate I have ever had...EVER.
Malham to Horton-in-Ribblesdale - 22km
Malham to Horton provided us with a bit more entertainment. Refueled and rested we first hit Malham Cove a large, curved feature formed by a waterfall carrying meltwater from glaciers.
At the bottom of the waterfall are steps - similar to those Frodo, Sam and Gollum climbed to secretly enter Mordor. Without an Orc in sight, we scaled the steps and started to break into the first sweat of the morning. From the cove we got to Malham Tarn and headed into our first proper climb of the day.
Fountains Fell is a mountain (or more strictly a marilyn) that rises up to 668 metres above sea level. Like Tony Curtis and Jack Lemmon in Some Like It Hot, Big Dave and I toiled and tousled for the Marilyn's love and affection. However, we seldom got anything back. Instead, the snow got deeper and the ice slippier. In true Ultra style, we walked the steep parts and ran the flats. To be honest, I was really feeling it at this point and if it wasn't for Dave I probably would have walked more than ran.
As we got to the top we had a quick health check and looked back on where we had come from. With Malham Tarn only a speck in the distance we felt pretty chuffed. The descent from Fountains Fell into the base of Pen Y Ghent was one of pure joy.
I will never understand why in an ultra you can go from feeling 10% to 110% within the space of 1 minute. However, as we freewheeled down the mountain the odd "whoop" came from Dave's mouth and the enjoyment levels were as high as where we had come from.
Pen Y Ghent was looking pretty precarious, and the summit was looking fairly dangerous. For the sake of chest beating that we had climbed up to only 30 metres higher than Fountains Fell we decided not to summit but, like Jack does to Rose in Titanic, to just caress Pen Y Ghent's shoulder.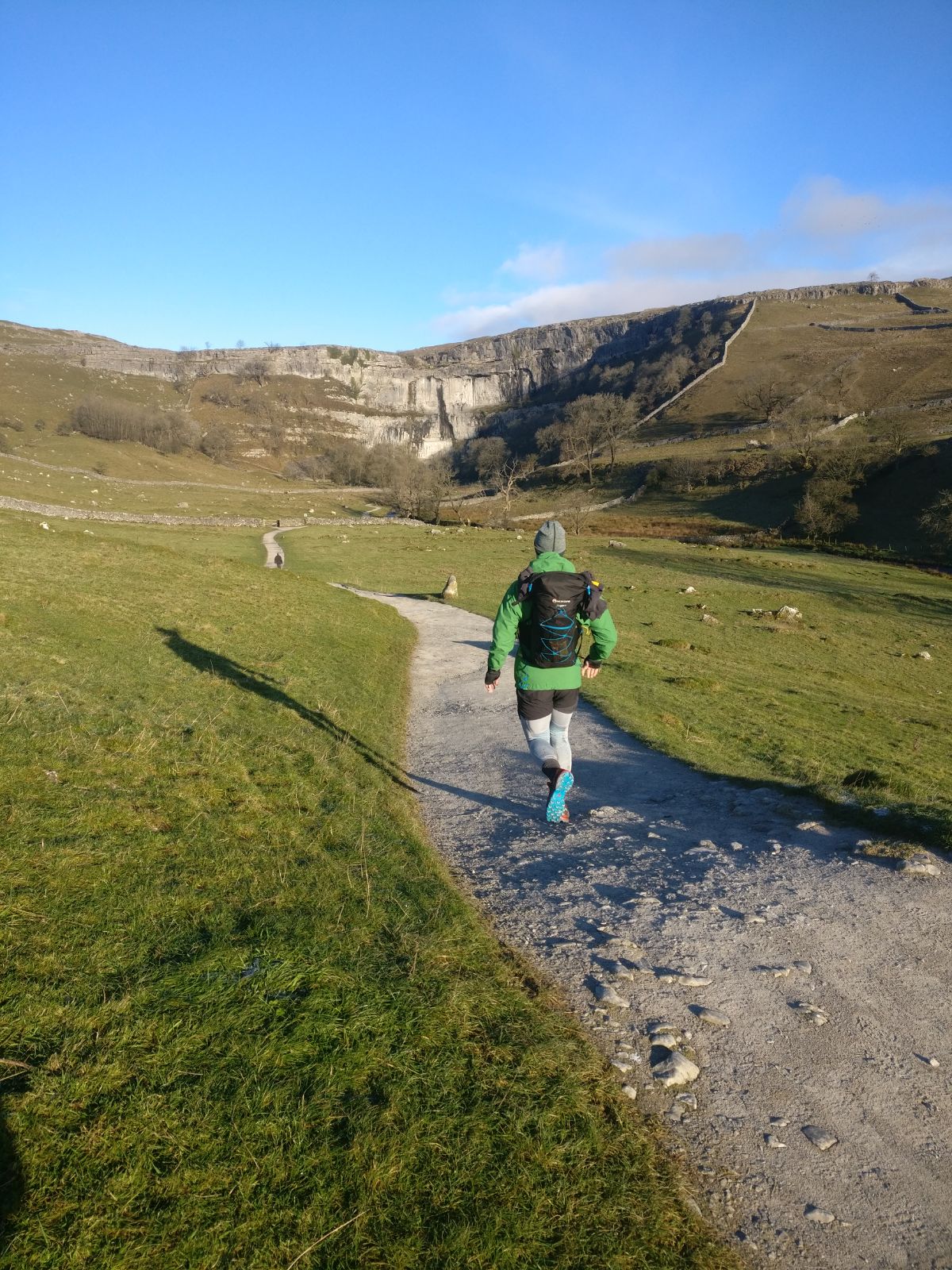 From the shoulder, was a clear view of Horton in Ribblesdale. The descent was an easy one and we hit The Crown pub within 10 minutes of their kitchen closing - 2 chicken pies please.
Horton in Ribblesdale to Hawes - 23km
Once again - refueled and spirits high we set off for the last leg of the journey. Described in Big Dave's book on the Pennine Way as "doable when sleepwalking", we managed to get a little lost about 6km in. However, a quick consult of Strava and we were back on track.
By this time it was around 15:30 and the sun had started to dip.The sunset framed the Ribbleshead Viaduct, its rays shining through the arches and creating the illusion of an old piano with dull yellow ivory and black keys. As the sun played the main tune, it was supported by the wind blowing her flute through the tall grass. Big Dave and my footsteps gave this natural orchestra's it's bass with the percussion of our footsteps beating along the frozen marshes. This was a moment I will never forget.
As we moved towards the last 10 miles, the sun had packed up and it was time for natural light to be replaced by battery power; head torches on.
The route from here was a simple, yet technical one. We climbed Dodd Fell (668 metres) which was made easier by the obvious single track and traded stories of different wild cat being located in Britain's national parks. We decided that no exotic cat or dog could survive in the Yorkshire Dales - until we remembered that cats and dogs all have relatives that ably survive in mountainous conditions (siberian tigers, wolves, snow leopards, mountain lions etc etc).
(Semi) Confident we wouldn't find any, we marched on. At this point I was hurting. I suppressed every urge to keep asking Big Dave how long he thought we still had left to run. As we reached a fork in the road, we consulted the GPS on our phones that nursed 5% battery. To the right was a track that looked open and safe. The the left was one that quite frankly, looked like the Elephant graveyard in The Lion King.
We took the one to the left.
Luckily, the hyena's left us alone, although, due to a cloud covering the summit of the fell, we couldn't see too much ahead of us - luckily, we knew there was only around 5 miles left and the path we had chosen was marked with footsteps and bike tracks. The pain in my lower limbs was now worse, but I knew we had to run if we wanted to reach Hawes in good time.
The further we went on we started to see signs of civilisation, headlights on a road then the artificial orange glow of a town.
10.5 hours, 56km and 1,430 vertical metres of running later we had reached Hawes. It was such a fulfilling day. In the promo video Zac Efron says that the best way to reconnect with yourself is through the wilderness. My fanboy bias may cloud my judgement, but after a trip like this I have to agree. We all deal with stress and anxiety to some degree. To spend a day with a close friend in a challenging yet beautiful environment, is the perfect way to relax and refocus.
Stiff, sore but completely fulfilled, we trudged back to London to start the Christmas celebrations.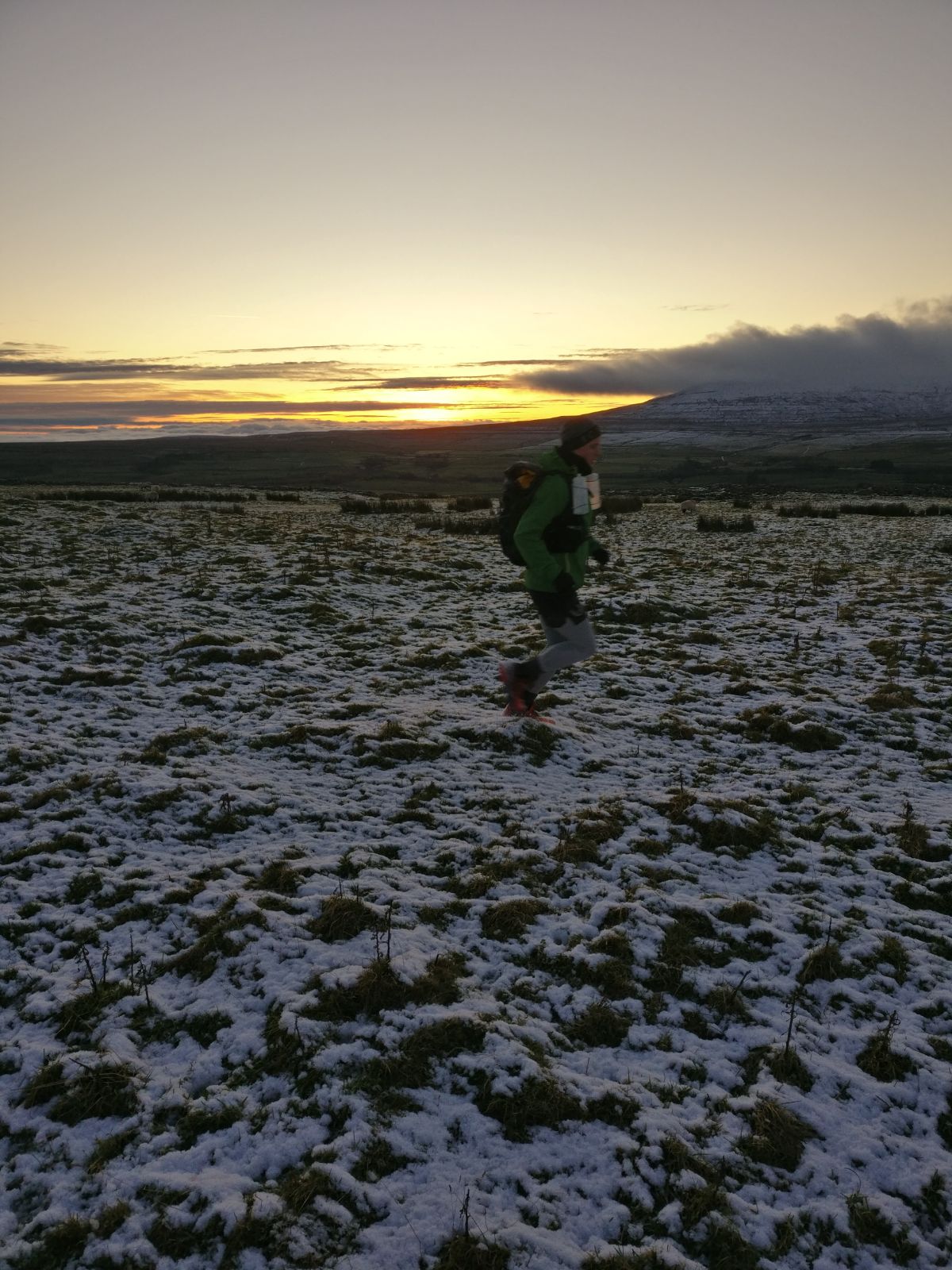 We LOVE hearing how TRIBE fuels your adventures. Send in your stories to kristina@wearetribe.co