TRIBE are launching 3 delicious TRIBE Protein Shake flavours at the TRIBE Shake Shack Pop-Up in Shoreditch this November; an on-the-go recovery drink that provides 20g Protein per Shake, is delicious mixed straight up with water or added to a smoothie and is 100% natural.
WE ARE ON A MISSON TO DESIGN THE ULTIMATE TRIBE PROTEIN SHAKE AND WE NEED YOUR HELP!

ENTER COMPETITION HERE to unlock your promo code to order a TRIBE Shake 12 Pack - including all 3 NEW Shake flavours - for just £12 (usually £18 - that's 33% OFF)!

Choose your Shake category: Breakfast OR Post-Workout;

Create the Ultimate Shake using:
TRIBE Protein Shake: Vanilla & Cinnamon, Raspberry & Goji or Cocoa & Sea Salt

Milk, Plant Mylk or Water
Up to 5 100% Natural Wholefood Ingredients (e.g. nuts, oats, berries etc)
Name your Shake name (e.g. TRIBE Post Workout Blitz) + Submit Shake photo + Recipe (by 9 November) @ wearetribe.co/shakeshackentry
INSPIRATION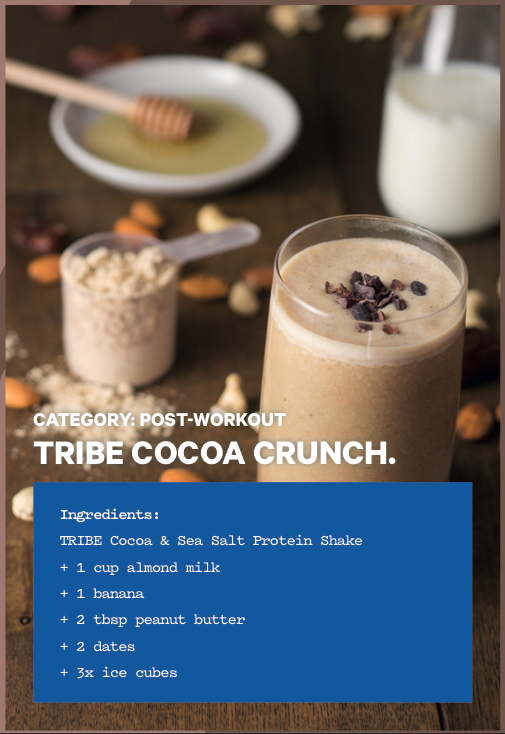 NEXT STEPS
TRIBE community will vote on their favourite (shortlisted) Shakes
1 winning LIMITED EDITION Shake will be served @ TRIBE Shake Shack this November!
IT'S TIME TO DESIGN THE ULTIMATE PROTEIN SHAKE... GET CREATIVE!