TRIBE runner Jodie completed the TransGranCanaria 125km in 27hours 40mins, 6th in her category and the second youngest female runner. She shares her race journey…
I have never been so nervous for anything before in my life as I was in the lead up to take part in one of the toughest trail races in the world, TransGranCanaria 125km, an experience that has taught me so much about myself. Not only was I scared because of the race's reputation, part of me knew that the odds were against me to climb the 7500 meters assent across the entire island within 30 hours - but I wanted with all my might to complete this challenge.
In the months leading up to TransGran, I did what I could and dedicated myself fully to preparing for the event. I worked my training around a busy life by setting the alarm a couple of hours earlier most mornings to get a morning workout. I'd then fit in another run most evenings, motivated by attending groups sessions, such as Tribe tempo workouts on a Tuesday in Shoreditch (of which I'd run to and then home from to get extra mileage). The weekends were my chance to get in some long mileage and venture to Surrey or Bristol with friends to practice as many hills as we could find. Luckily, a lot of my friends are runners too, so my social life became running, eating or another form of workout such as yoga to help aid a quick recovery.
24 hours to go: I became very focussed, made sure I was fully aware of what I had chosen to embark on, I carefully organised all of my kit list and double checked my equipment. I also had to prioritise myself, something I'm not always great at when with a group, but I made sure to take naps and some time to myself in order to focus.
Fuelling efficiently is key. My diet is vegan so I went to Gran Canaria prepared with half a suitcase dedicated to food. I also didn't want to risk eating out. In our group we made up big batches of mixed grains, lots of cooked vegetables and plenty of avocados - this was delicious and great slow release fuel.
Unsurprisingly, this race was a massive test for me, it's the furthest distance, highest relative assent and the longest time on my feet with no sleep that I've tackled... so far. I went in with faith in my mind but not so much in my body - only a few weeks before race day, I was devastated to pick up an injury which meant I had to stop running to give myself even a chance of a miracle recovery. Even when we arrived in Gran Canaria and went for a 5km stretch-out run, my leg hurt. Safe to say I was worried.
The course was breathtaking: we had to scramble up rocky terrain; crawl through bamboo arches; pick our way through a sub-tropical jungle; climb through forests and see the island from its highest points.
During the hottest part of the day, slightly dehydrated with mild sunstroke and sleep deprivation finally toying with me, I had to face the steepest, longest climb of the event (over 1000 metres) at which I was almost convinced I was going to drop out. Yet, a tiny part of my brain somehow still had reason - though I was having a huge argument with myself to stop or keep going. So I did my checks - my body was not in pain, I had not been timed out and even if I wanted to drop out, the closest aid station was up that mountain. So, I told myself I must keep going, one step after another and not to worry about time.
Wow, the next aid station, El Garañón at 85km was where I revived! This is where the 125 km
runners' drop bags were and also where the best pasta in the world can be found! I'm not normally one for pasta and I never drink coffee either, but two bowls of pasta and a cup of coffee later I was back in the game - I felt a wave of euphoria as I realised that I could keep going and had a knowing feeling that I would in fact finish. I changed my Run For Love II, Soar t-shirt for a long sleeved top as the second night was drawing in, donned a clean buff, restocked my salomon vest with more tribe bars, brushed my teeth and shared a few words with fellow runners (one guy who I'd met told me he had dropped out but that he had confidence in me - just these few words were inspiring and helped me power on) then I was off and more determined than ever.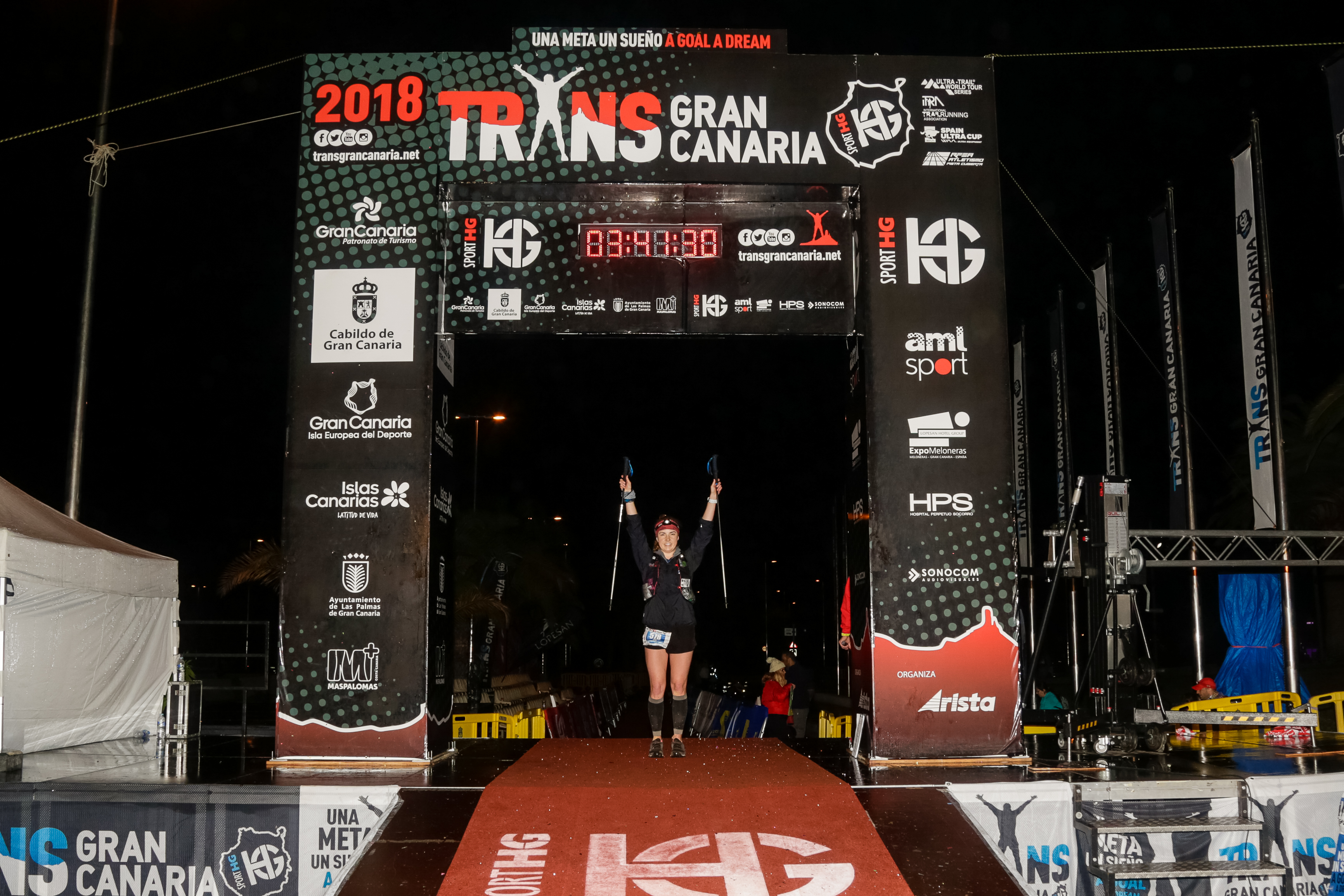 A lot of people ask what you think about while running. Usually I'm super chatty, I love the the ultra/trail scene because tends to be very friendly and conversational. Typically, I think about all sorts of things from the people that inspire me to what I'm going to have for dinner. This time was different,from the off of TG125 I stayed very focussed, conserving energy and only thinking of that moment in time. I asked myself, "have I drunk enough?" "do I need food?" "how do my legs feel?".
I'm so proud to be part of such an incredible event, make some amazing friends and even more proud to say that I completed TransGranCanaria 125km 2018 in 27hours 40mins, 6th in my category and the second youngest female runner.
To share the experience with 4 amazing friends, who I'd really got to know through the Tribe
community, was the best decision. Jonny, Ellis and Svitlana who completed the 64km option and Kate who had picked up an injury and meant she couldn't take part in the 125km, had faith in me and were the best welcome party at the finish line at 02:41 am on a Sunday morning - only true friends would do that!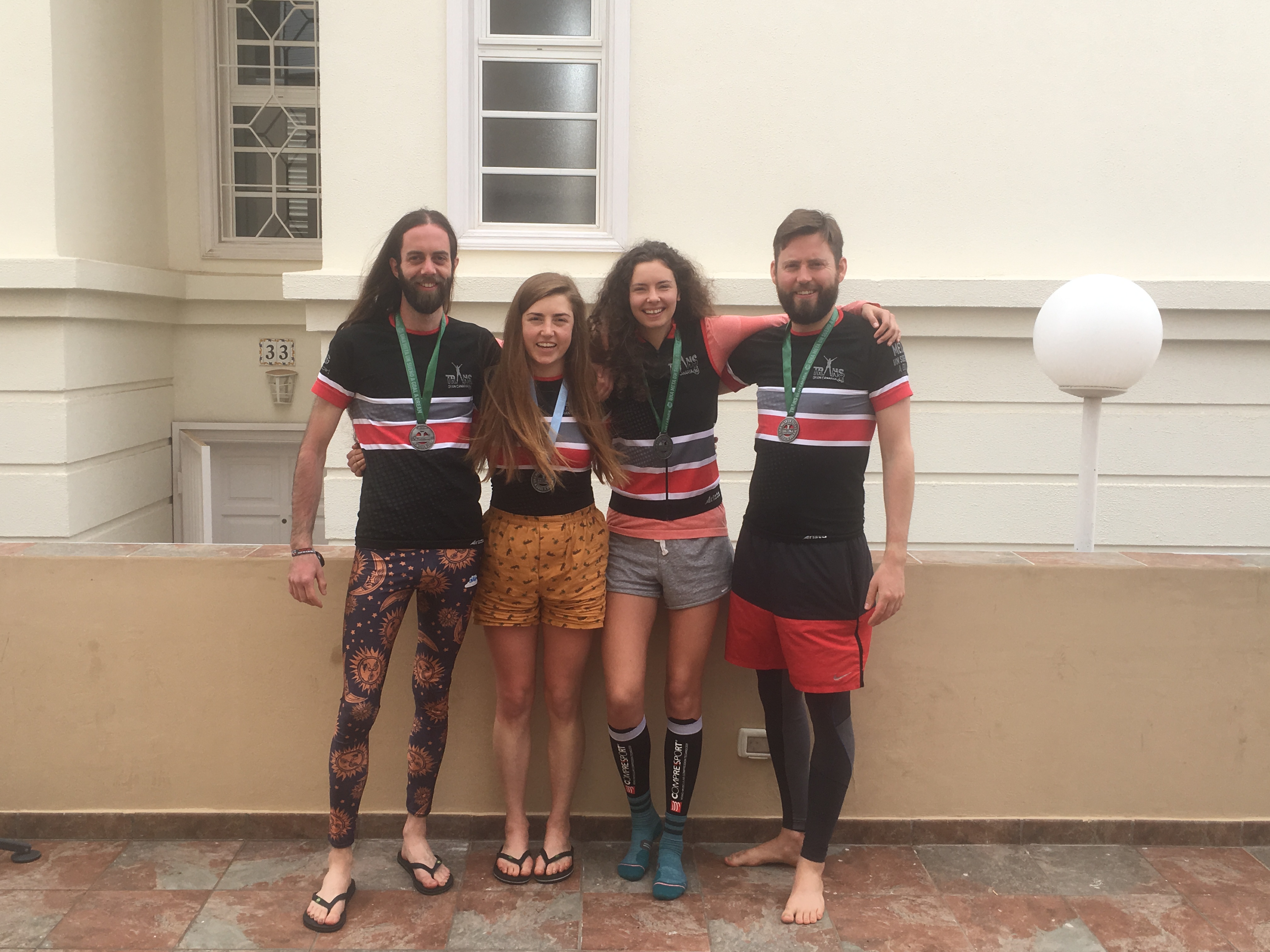 I cannot thank those who believed in me, and inspired me enough - both before and during the event. Without that positivity who knows if I would've had the mental strength to get through.