Ingredients (to make around 15 medium-sized pancakes):
1.5 cups rice flour
1 TRIBE Protein Sachet (40g)
2 tsp baking powder
2 tsp cinnamon
1/2 tsp salt
2 cups Rude Health almond milk (or plant alternative)
2 tsp vanilla extract
2 tbsp maple syrup
1 tbsp extra virgin olive oil
2 bananas
Coconut oil for frying
Whatever toppings you fancy!!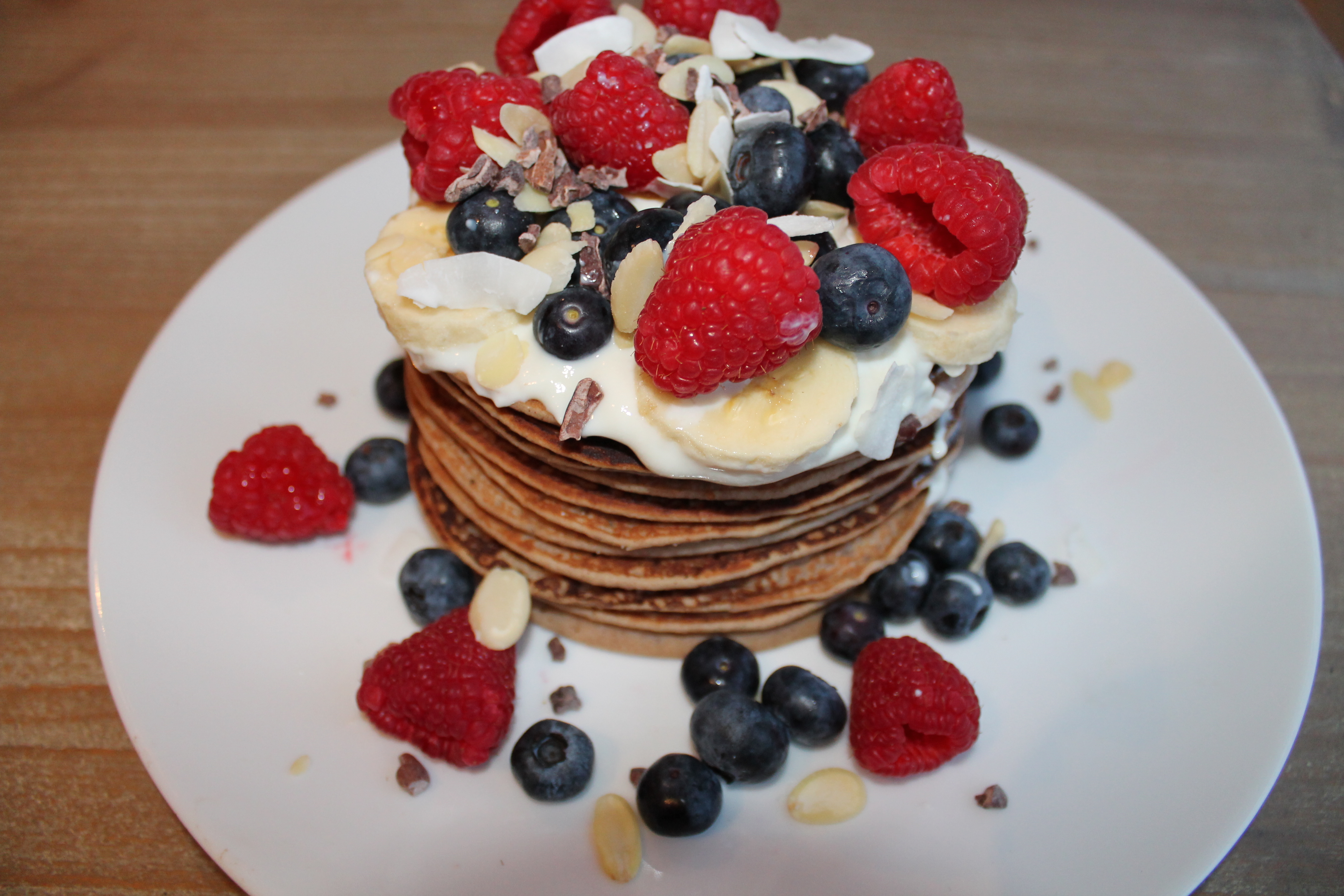 Method:
Mix all the dry ingredients together in a bowl (flour, baking powder, salt, cinnamon).
Separately mix together all of the wet ingredients - I did this in a nutribullet (almond milk, maple syrup, vanilla essence, olive oil, banana)
Combine the wet and dry ingredients (ideally in a blender, if not then by hand)...and your mix is ready!
It's best to let your mix rest for a while (I made mine the day before but if you don't have time then leave it for 30+ minutes at room temperature)
To cook: Lightly grease a hot frying pan with coconut oil, spoon in around 2 heaped tbsp of mixture to the centre of the pan.
Using the back of the spoon swirl the mix in to a flat circle and cook for around 50 seconds, flip with a spatula and then cook for around 25 seconds on the other side.
Serve and top with your favourite toppings. I used Coconut Collaborative coconut yoghurt, fresh blueberries, fresh raspberries, cacao nibs, Pip and Nut almond butter, coconut flakes, flaked toasted almonds, and melted dark chocolate.
Recipe from Hannah Leith - ASICS FrontRunner 🏃🏼‍♀️Ultra Runner 🏔 Adventure Seeker ✌🏻 @the_ tribe _way Ambassador