These vegan cookies were adapted from a recipe by my other favourite Aimee (Wallflower Kitchen). You can see her version here.
Preparation Time:
20 min
Roasting Time:
25-30min
Cooling Time:
10 minutes + 10 minutes
Baking Time:
About 10-15 minutes
Makes:
32 cookies
Ingredients for the cookies:
A good handful of chestnuts (8-10)
200g vegan butter
100g light brown sugar
1tsp vanilla power
300g spelt flour + extra for dusting the work surface
2tsp ground cinnamon
1tsp all spice
Ingredients for the glaze and toppings (optional):
A good handful of pomegranate seeds
About 3/4 cup of icing sugar
Freeze dried raspberries and/or edible flowers to decorate (optional)
Method:
Pre-heat the oven 200C/425F. Take the chestnuts and with a sharp knife cut a + shape into them. Then place the chestnuts on a baking tray and roast for 25-30minutes. Be careful not to burn them. You know that they are ready when they start folding open where you made the + incision (see picture above). Take them out of the oven, bring the oven down to 180C/350F and let the chestnuts cool for about 10 minutes. When they have cooled, peel about 8 of the chestnuts and crumble the content into small bits. Chop up with a knife into smaller chunks if you prefer.
With a hand-held, or preferably an electric (hand-held) mixer, combine and cream the vegan butter, sugar and vanilla for about 5 minutes. Then add the spelt flour, broken up chestnut pieces as well as the spices and mix gently until just combined.
Prepare your kitchen surface with a dusting of flour and roll out the dough with a rolling pin. Get your cookie cutter and cut the dough ( as shown), line 2 baking trays with grease proof baking paper and place the cookies onto the trays. Bake the cookies for about 10-15 minutes or until the edges just start to brown.
Whilst the cookies are baking prepare your pomegranate glaze by taking the pomegranate seeds and squeezing out the juice with a muslin cloth (as shown). Combine the collected juice with icing sugar. Please note that the measurements above for the glaze are VERY approximate. It depends on how many pomegranate seeds you use. Just remember the glaze needs to be runny enough to spread but firm enough to be able to set.
Once the cookies are baked, let them cook for about 10 minutes and then dip one side into the glaze, place on a drying rack and decorate as desired.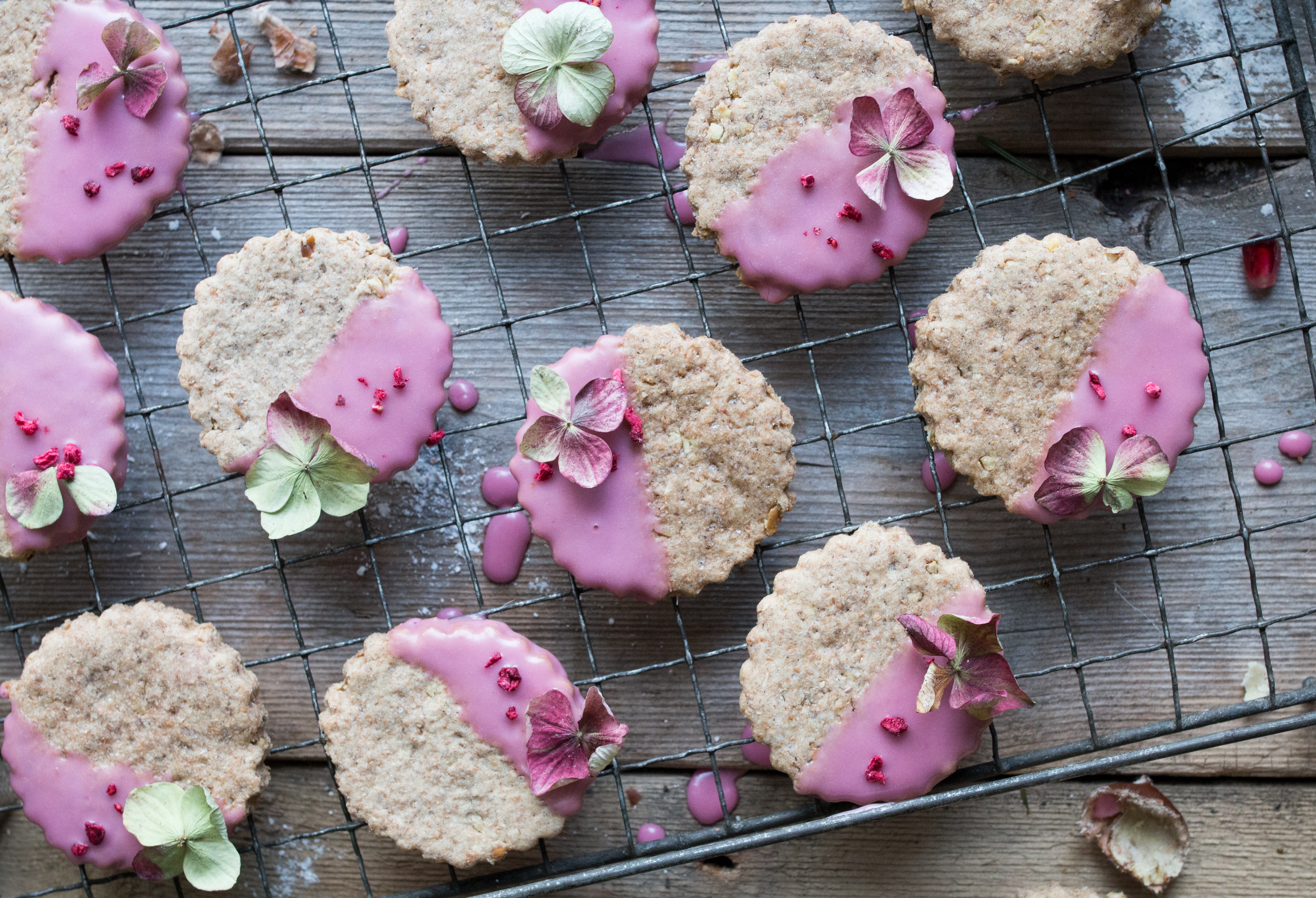 Creation by The Little Plantation. Check out more plant-based recipes and amazing photos here. Kimberly is a nutritional therapist, yoga teacher, self-taught food photographer, food and prop stylist and a recipe developer.