Vegan Burgers creation by The Little Plantation. Check out more plant-based recipes and amazing photos here. Kimberly is a nutritional therapist, yoga teacher, self-taught food photographer, food and prop stylist and a recipe developer.
Ingredients for the patties:
1 sweet potato, peeled and cut into chunks, then steamed or roasted (though please check tips at the end for an alternative preparation)
200g (1 cup) fresh (or well drained) corn kernels OR 150g (1 cup) frozen kernels, thawed
250g (1.5 cups) cooked or tinned chickpeas, rinsed and drained well
2tbs olive or rice bran oil
1 white onion, peeled and finely diced
1 garlic cove, peeled and crushed
3tbs millet or quinoa flakes (please check tips at the end for alternatives)
3tbs parsley, washed and finely chopped
1/2tsp ground cumin
1/2tsp paprika
1/4tsp ground turmeric
1tsp salt or to taste
1/2tsp ground black pepper
2tbs ground flaxseeds (I use this one) + 6tbs water
Ingredients for the avocado mayo:
fresh of 1 large avocado
2tbs extra virgin olive oil
1 garlic, crushed
juice of 1/2 lemon
1/2tsp dijon mustard
1/4tsp salt
1/4tsp paprika
Extra ingredients:
5 (glutenfree) burger buns
A handful of leafy greens like chard, kale or ice berg salad OR fresh herbs like parsley
1-2 tomatoes, sliced
1 red onion, sliced
1/2 cucumber, sliced
Yellow mustard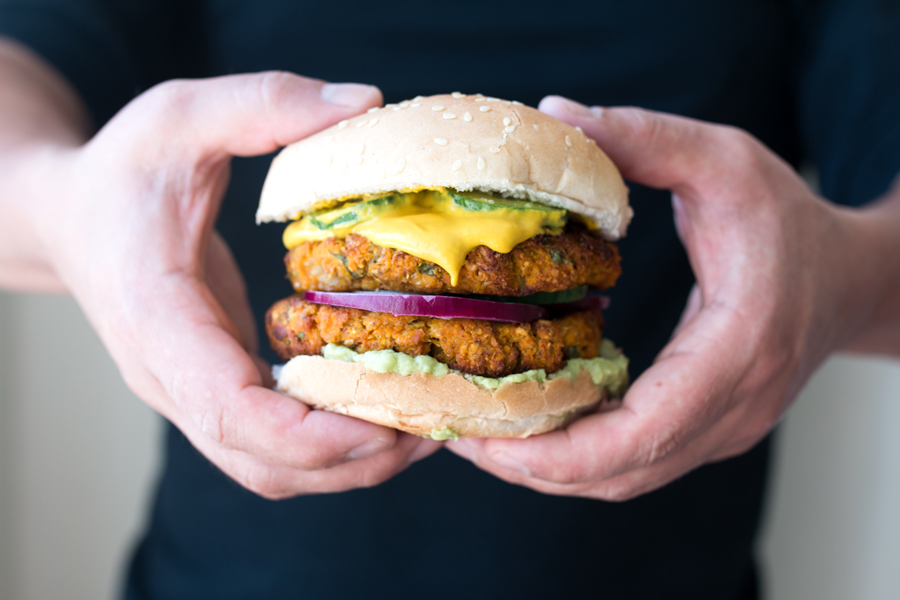 Method:
Preheat the oven to 180C/350F and line a baking tray with baking paper.
To make the patties, place the cooked sweet potato in a food processor with the well drained and dried corn and chickpeas. Blend until the mixture is smooth - with some chunky bits left for texture - and well combined. Keep in the food processor!
Heat some of the oil in a saucepan and saute the onions and garlic for a few minutes until the onions are translucent. Remove from the heat and allow to cool slightly, then add the onions and garlic to the chickpea mixture and pulse briefly in the food processor.
Transfer the mixture to a large bowl, add the millet/quinoa flakes, parsley, cumin, paprika, turmeric, salt and pepper and mix well. In a small bowl, whisk the groud flaxseeds with the water. Then, using your hands, incorporate the flaxseed mixture into the chickpea mixture until fully combined.
Shape everything into 5 evenly sized patties and place on a prepared lined baking sheet. Heat the remaining oil in a large frying pan and then pan fry each patty for 2-3 minutes on each side. Once done, transfer the patties back to the lined baking sheet and bake for 25- 30 minutes, or until cooked through.
Just before serving, place all the avocado mayo ingredients in a blender and whisk until smooth. Cut the burger buns open and serve with all the trimmings. Enjoy!