Ingredients:
1/3 cup rolled oats
2 cups of almond milk
1 TRIBE cocoa recovery shake
1/2 small banana
1 tbsp maple syrup
2 big squares dark chocolate
1 tsp cinnamon
Method:
Pre-soak the oats in 1 cup of almond milk for an hour or more (not vital - you can use dry oats).
Blend everything apart from the dark chocolate until smooth. Then add the mixture to a saucepan on a low heat and stir continuously (don't let it start to boil).
Add in the dark chocolate and continue to stir until melted.
Do a taste test and add in more milk if it's too thick for you, or more maple syrup if not sweet enough.
Pour in to a mug and top with whatever you fancy (I topped with a cacao and coconut seed mix, but you could just sprinkle over some extra cinnamon and grated chocolate).
N.B. This same mix would also taste great cold!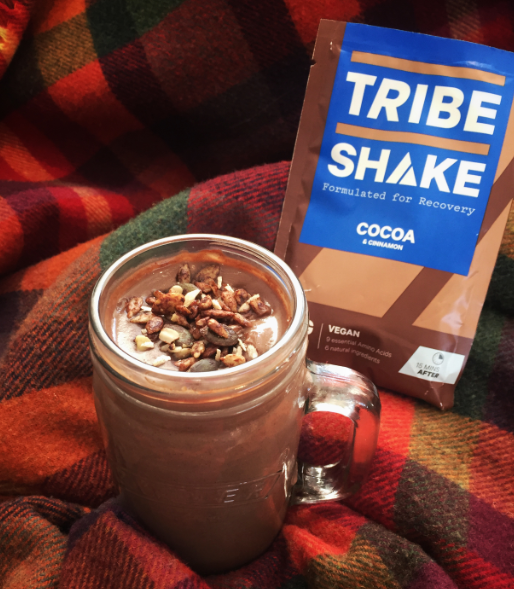 Thank you Hannah Leith for this delicious winter warmer! Great way to get your protein in and keep warm after a workout as the weather starts to get much getting colder!