Snacks are SO important when you are trying to lose weight or to be generally healthier, because:
a) they help with boredom – i.e that mid-afternoon, restless, mind-wandering moment when you find yourself browsing crap on your computer when you should really be spread-sheeting your brain.
b) they help to balance your blood sugar levels so you don't find yourself on the floor in a craving, tired mess.
c) you can fill them with shedloads of added nutritional value.
Sesame seeds provide a powerful source of magnesium, iron, zinc and calcium, alongside a rich assortment of other nutritious vitamins and minerals. I like to buy the un-hulled variety as I think they add much more of a snap when you toast them up – but if you can't find un-hulled, hulled will be pretty much just as good.
Ingredients: (Serves 15 pieces)
100g (3.5oz / 1cup) of whole walnuts
50g (1.8oz / ⅓ cup) of almonds
120g (4.2 / ¾ cup) of pitted dates and roughly chopped
150g (5.3oz / 1 cup) of sesame seeds
3 tablespoons of coconut oil
4 tablespoons of honey, date syrup maple syrup or coconut blossom syrup
2 tablespoons of raw cacao nibs (optional)
50g (1.8oz / ⅓ cup) of desiccated coconut
½ teaspoon salt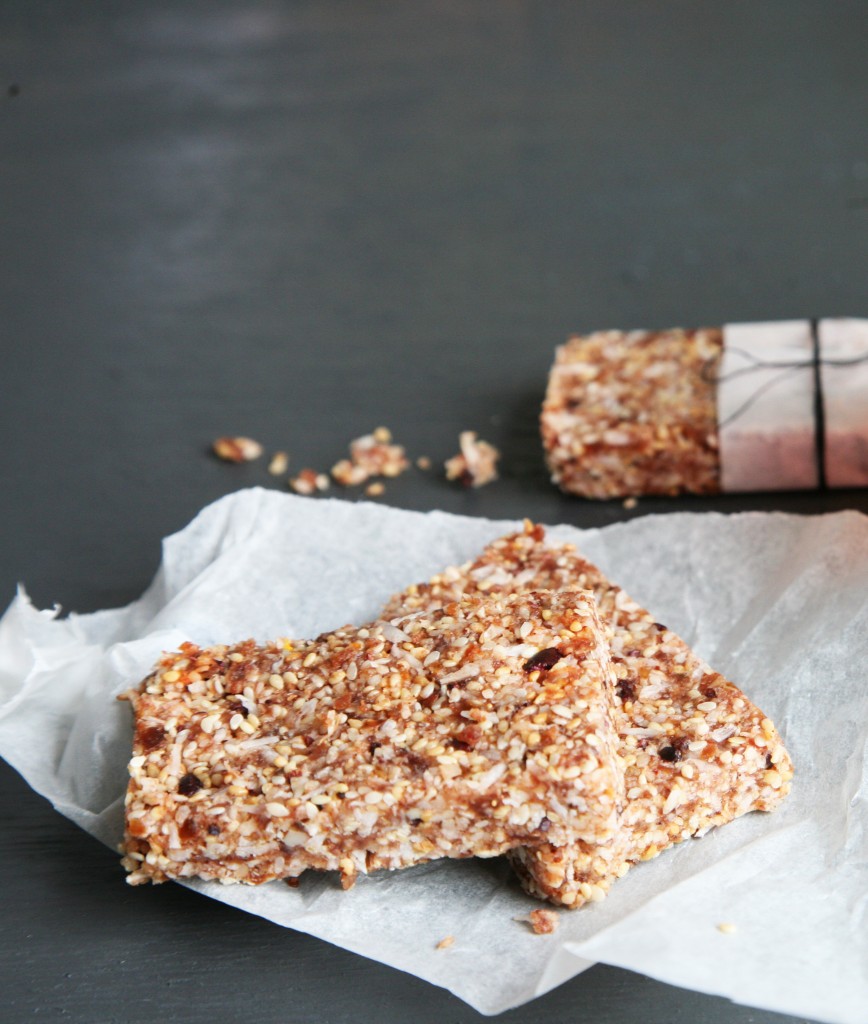 Method:
Lightly toast the walnuts and almonds in a pan over a medium heat until they start to release a delicious nutty smell. Transfer to a food processor and blitz until they resemble a very coarse flour or oatmeal like texture. Add the dates and continue to pulse until roughly chopped.
Next, toast the sesame seeds in the pan, again over a medium heat, but keeping an eye on them as they can burn very easily.
While the sesame seeds are toasting, melt the coconut oil in a separate pan and add the honey (or syrup of choice). Once melted, add the sesame seeds, raw cacao nibs, salt and desiccated coconut and mix together. Finally, add in the ground nuts and dates and stir through until nice and thick and sticky.
Line a baking tray (I use a 20x30cm tray which fits the mixture perfectly – but any size will do as the mixture will hold) with grease-proof paper and pack the mixture in until it is about 1-1.5cm thick.
Put into the fridge to set and then cut into whatever size you like – big squares or little bites for the perfect snack.
Recipe from Rosannagh @ http://www.clovefoodco.com