Fajita bowl with spicy quinoa, beans and sliced avocado
This dish should be known as the Spicy Fajita Rainbow bowl if colours are anything to go by. We try and include as many colours and vegetables in our meals as possible and believe colours are a great indicator of goodness.
We've used quinoa in this recipe as not only is it a complete source of protein but it is also a great source of omega-3 fatty acids and contains high levels of antioxidants.
Serves: 2 | Cook Time: 30 mins | Calories: 584 | Type: Vegan + Gluten-Free | Macros P: 21g / C: 64g / F: 29g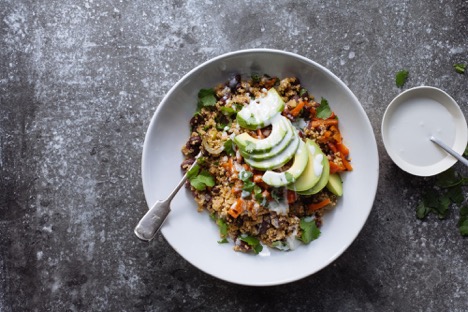 INGREDIENTS:
240g kidney beans (drained)
1 red onion
1 red pepper
1 avocado
30g pickled sliced jalapeños
Handful of coriander
80g quinoa
2 tsp smoked paprika
1 lime
20g creamed coconut (sulphites)
Already in your kitchen:
Sea salt & black pepper
Coconut oil / olive oil
METHOD:
Method:
Boil a kettle. Rinse the quinoa and place in a saucepan with 300ml boiling water, simmer for 15 mins until cooked.

Meanwhile finely slice the red onion and red pepper. Peel and de-stone the avocado and slice thinly. Roughly chop the jalapenos and the coriander leaves.

Heat 1 tsp oil in a medium-sized pan. Drain the kidney beans and add to the pan with half of the smoked paprika and the jalapenos and cook for 5 mins. Remove from the pan, set aside and cover.

In the same pan, heat 1 tsp oil and fry the onion for 3 mins, then add the red pepper and fry for 5 mins. Stir through the remaining smoked paprika.

Meanwhile, in a bowl, mix the creamed coconut with 20ml boiling water to form a sauce. Add a generous squeeze of the lime juice and a pinch of sea salt.

When the quinoa has finished cooking, drain and mix with the kidney beans and half of the coriander. Season with sea salt and black pepper.

To serve, spoon the quinoa and beans into two warm bowls, top with the red pepper and onion, then layer over the sliced avocado. Drizzle over the coconut lime sauce and scatter over the remaining coriander leaves.
Recipe from our friends at Mindful Chef