Ingredients: Serves 4
1 butternut squash, do no throw away the seeds
2 handfuls of cherry tomatoes
Olive oïl
Salt and pepper
Rosemary
1 carrot
1 stick of celery
1 ½ cups of lentils (soaked overnight or for as long as possible)
2 handfuls of kale
Seeds from the squash
Paprika
Cumin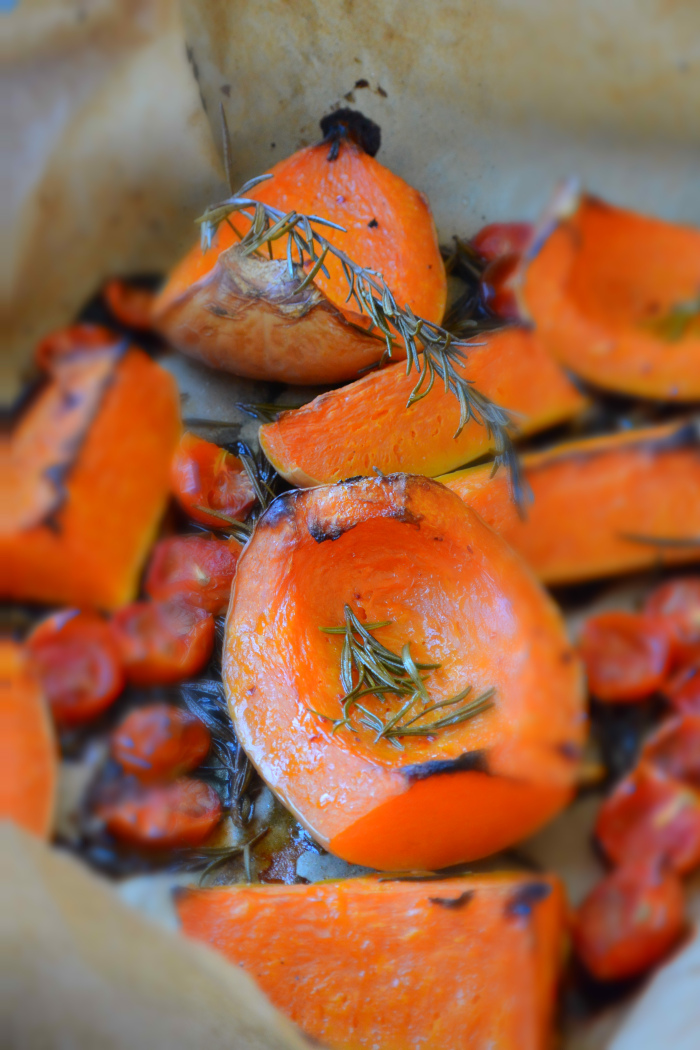 For the dressing:
1 tbsp tahini
Juice of ½ lemon
Pinch of paprika
Olive oïl
Sea salt
Method:
De-seed the squash and chop it into chunks. Drizzle it with olive oïl and sprinkle with salt, Pepper and fresh Rosemary, then roast at 180°C until it is soft – this will take about 40 minutes. When it has been cooking for about 30 minutes, chuck the cherry tomatoes in with the squash so they are ready at the same time.
Finely dice the carrot and celery and fry in a little olive oïl. Bring the kettle to the boil, and in boiling water and the lentils and let it simmer until the lentils are cooked – they will soak up lots of water, but you may need to drain the rest before mixing the lentils into the salad.
Blanche the kale quickly in boiling water, just enough to soften it, then leave to drain.
Toss the squash seeds in olive oïl, good quality salt and a sprinkling of paprika and cumin, then cook in a frying pan on a hob, tossing them often, until they are nicely browned. Watch them carefully because they will burn very quickly.
For the dressing, simply whisk all ingredients together, altering quantities to your taste.
Once everything is ready, toss it all in a big salad bowl, sprinkle with spicy squash seeds and drizzle with tangy lemon-tahini dressing and serve!
Delicious recipe from Serena @ The Herb Diaries.