TRIBE adventurer Tim Moss writes about his epic desert trek through Oman.
The Wahiba Sands are a desert in every sense. Hot, dry and filled in their entirety by wave after wave of steep sided sand dunes. The dunes run north-south in parallel lines and our crossing would cut perpendicular across them all.
We timed our trip to coincide with a full moon to allow walking at night in the cooler temperatures. We each carried 9 litres of water and three days' food. I estimated our packs to weigh in at around 17kg.
There would be around 26 such dunes to cross, each one a hundred meters or so in height and a kilometer or two wide. Sometimes it was hard to tell where one dune finished and the other started when we were lost in a sea of rolling sand hills but it was our easiest measure of progress; like counting lengths in a swimming pool.
Slogging uphill through sand in Arabian heat with a heavy pack makes for slow work. We covered just 20km on the first day. So, on the second, we got our heads down before the sun was too high and marched across a dozen dunes before lunch.
Within seconds of collapsing at our designated lunch spot – a lonely tree perched in the sand halfway up a dune – the wind picked up. With wind in the desert comes sand. We ate a miserable lunch of dry bread with cheap cheese and grains of sand crunching in our teeth. Grit filled our eyes, our ears, our nostrils.
Sun goes down. Moon comes up. After another six hours' marching, we were well into the eastern half of the Sands. More greenery appeared and the dunes became less like orderly rows and more like an endless choppy sea. Camels roamed freely and herds of goats grazed on what plant life they could find. Lizard and dung beetle tracks abounded, and even the tell-tale wiggle marks of snakes were spotted between tufts of grass.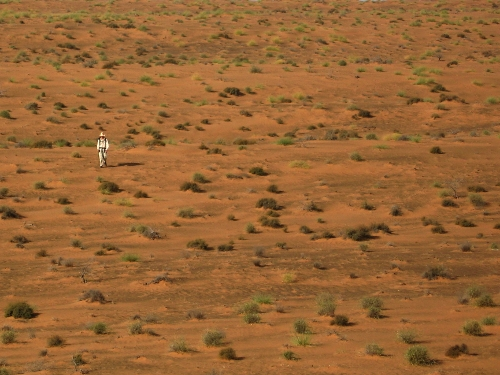 Fatigue began to set in. As we crested each dune under the tranquil light of the moon we would silently hope that it was the last but every time our optimism was thrown back into our faces with the sight of yet more dunes silhouetted in the distance. Tired and feeling the thirst more than ever, we pressed on without speaking, willing our legs up those short, sharp sections of sliding sand that required otherwise tired muscles to work at double speed to make any progress.
As 10pm arrived and the eastern plateau failed to materialise, we made camp for another night. Morning broke with a heavy dew. The moon was behind us and illuminating the thick mist in the valleys below. We each had a litre and a half of water left and, we reckoned, some three hours over dunes and another 10km to the road.
When we finally reached the foot of the final dune we ceremoniously emptied the sand from our shoes one last time. Most of the crossing was completed just wearing socks, far more comfortable and responsive than wearing shoes, but when light was low we cautiously opted for better protection from scorpions. We had crossed a desert.
Blog from British Adventurer Tim Moss – www.thenextchallenge.org